Airtronics M11X 2.4GHz FHSS-3 TX/RX Radio System
The M11X is the top-of-the-line competition surface radio that serious racers demand and the sportsman desires. Based on the legacy M8 & M11 radios that have won multiple awards, the M11X continues with the tradition offering the best radio with the most current features all users can appreciate. The M11X is lighter than previous models, faster than any wheel radio we've tested, and has additional features and numerous adjustments beyond even that of the original M11. And yet, its new layout makes using those features easier than ever before. From a custom menu where you can put your favorite features on one screen to multiple failsafe settings to optimize this feature for nitro or electric, the new M11X is amazingly powerful and easy to use.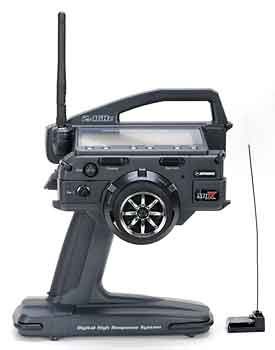 With extended race times and events, the weight of the transmitter is more important than ever. The newly-designed, more-efficient, dedicated 2.4Ghz RF system along with the smaller and lighter transmitter battery work together to make the M11X lighter and easy to handle. The M11X has a more traditional balanced feel and improved ergonomics.
For professionals, nothing matters more than speed and reliability. The M11X is lightning fast, thanks to the 2.4GHz system integrated into the radio circuitry in addition to using the latest FHSS-3 Sanwa 2.4GHz technology. This feature, alone, makes the radio inputs feel instantaneous! Lastly, while the legacy M11 had numerous adjustments, the M11X takes it one step further. We work closely with our world-championship drivers, both boat and car, and we listened to them. The M11X has the added features needed for an ever-changing and expanding hobby.
The M11X radio system includes the transmitter, receiver, transmitter battery, transmitter battery charger, switch-harness, and manual. Available after-market are sport and competition servos, lithium transmitter battery, DSC cord, and radio case.
Airtronics M11X Major Features:
4 channel computer radio with advanced programming for competition cars, trucks, and boats
Compatible with current Airtronics 2.4GHz FHSS-2 surface receivers
System includes 6-cell 1500mAh Ni-MH TX battery and charger
Transmitter is compatible with lithium 2 cell batteries
Ball race supported steering wheel and trigger with adjustable spring tensions
High-Power FHSS-3 technology gives the best reception and connectivity giving racers added assurance
2.4GHz FHSS-3 system is integrated into the radio system eliminating the need for modules.
Transmitter can be adjusted for left or right handed drivers
Adjustable back light display and vibration settings
Variable rate adjustment can be used to self-calibrate or compensate the servo movement to 100% when the steering wheel has been limited to move less
User and model names can be assigned
Assignable switches and trims
Vibration setting for timer notifications in noisy environments
Adjustable dial can be set for dig functions, remote needle valve settings, or reverse functions
30 model memory
Customizable menu for commonly used features instead of scrolling through the radio menu
Easy navigation menu
Easily activated and inhibited mixing functions while driving
Failsafe programming available on all channels for electric and nitro/gas use
Multi-Function timer / lap counter
Electronic traction control
Anti-Lock braking system
Throttle hold setting for reliable pit stops for nitro/gas use
Speed sensitive steering and brake adjustments
Exponential control settings for steering and throttle
Adjustable rate control settings for steering and throttle
Throttle and brake mixing for large gas vehicles
Product Type: Radio System
Manufacturer: Airtronics
Product: M11X 2.4GHz FHSS-3 TX/RX Radio System
Modulation: FHSS-3
Frequency: 2.4GHz
Memory: 30 models
Street Price: $439.99
Link
bron: www.hobbypeople.net