Elcon-Models: Evo Tuning Engines
The all new Race Ported Evo Tuning 23cc / 26cc Engines are here and Ready to Rock!
If your a basher or racer this engine is for you.
Our engines are cnc ported then each one is finished off by hand for the finishing touch.
Evo tuning have developed this outstanding engine for true performance.
No detail has been left and no corners cut these are TRUE ported race bread engines.To fully enhance and promote the smooth power delivery from these engines the heads have been CNC skimmed to maximise compresion within the cylinder. Transfer ports have been reshaped and enlarged and exhaust port is widened and raised, the inlet has been scuff polished and shaped to promote flow. Pistons are perfectly MATCHED to cylinder head with piston crown skimmed.
These have been CNC engineered to included transfer ports into the piston which match exactly to transfer ports on individual cylinder heads.If you are looking for most power for your money, Then look no further! These are the latest fully ported 4 bolt racing engines available from Evo Tuning.
It is recommended to use Castrol 2-stroke race oil XR77 or Castrol 2-stroke race oil A747.
Mixture: 35ml of oil to 1 liter of fuel.
EUR: 489,00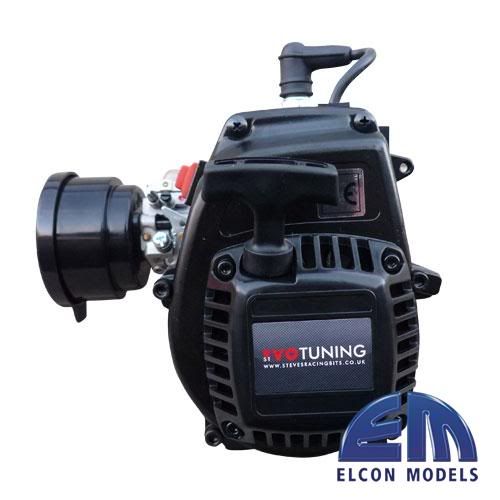 bron: www.elcon-models.nl