KRC Racing: koppelingsklok HPI Baja 5B and 5T
We have just added a new clutch bell to our range of KRC Racing options to fit the popular HPI Baja 5B and 5T off-road buggies and trucks.
We have had to replace several clutch linings on our own HPI Baja 5B buggies and we always suspected that the standard clutch bell does not run as perfectly true as we would like it.
After taking the car apart to check more carefully we noticed that the standard clutch bell was fabricated from two parts - the bell and the shaft. We also noticed that several alternative optional clutch bells that we had been shown were also fabricated from two parts as well.
To help prevent any possible error creeping in when the two parts are joined together, we decided to make ours from one piece of solid steel.
Our 25 years (plus) racing experience with large scale model cars has taught us that a ventilated clutch bell also has many advantages and helps to keep the clutch running a little cooler - as well as helping to eject some of the worn clutch dust as it rotates.
With all this information we decided to choose the steel we intended to use carefully, and then manufacture the complete cluch bell from one solid piece of billet steel to ensure the best possible concentricity.
Having made the new clutch bell assembly from the one solid piece of steel, we then added large cooling holes to the face of the bell and checked it rotated true. We also changed the shaft design slightly to give an improved bearing fit.
This new KCR custom made clutch bell is unlikely to fail, runs true, runs cool, and should help to prevent cluch shoe damage and extend the clutch lining life as well.
The price for all this engineering - just £24.99 including vat. A very good value for money product - British made and sold as part number KCR114. Available from any good UK model shop or from selected overseas dealerships.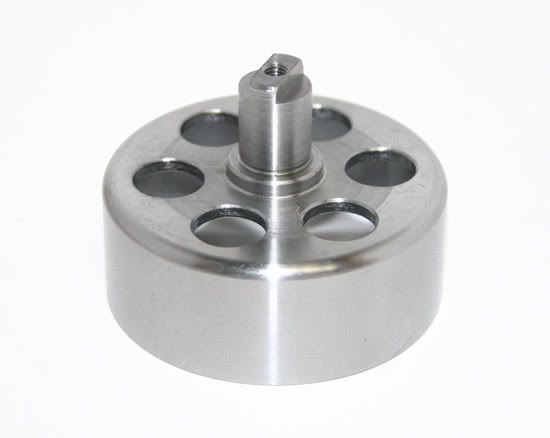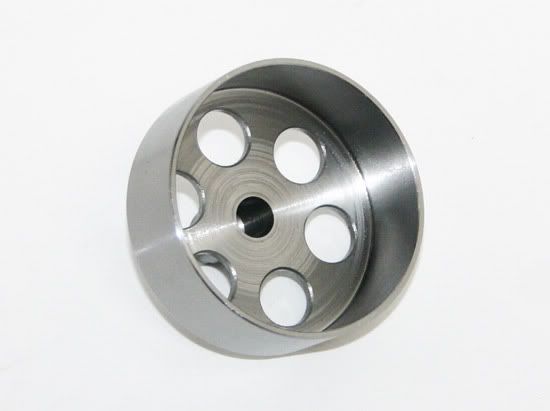 bron: www.kingcobra.co.uk