[align=center]
New Race Runner Evo 2 Comp Car from MCD
MCD have released a new version of their popular 4WD Race Runner buggy.
The 4WD Race Runner buggy has enjoyed a fair bit of success in Europe and the USA over the last year or so, as it is not a rival to any other large scale car, but in turn, it has no real rivals either.

MCD have only ever made 4WD cars, and so they have gained many years experience and advantage over any other manufacturer that may produce a large scale 4WD car in the future.

The experience is further strengthened by the owner and founder of MCD - Sinan Sunali.

Sinan has always listened to his customers comments and ideas, and usually always makes time to test and try these ideas to see if any of them produce advantages he can use to improve any aspect of his car. He often gains this information as he is racing (on a regular basis) either here in the UK, or more recently in Germany.



The completely new drive train and widened wishbones for the Race Runner Evo 2

Sinan has invested heavily in new machinery and techniques to make himself totally independant over the last 7 years or so, and now makes everything in his own factory, including wheels, tyres, body shells, gear cutting and hardening, injection moulding etc etc ..........and of course the final assembley.

This powerfull resource enables MCD to test and try new ideas very quickly, and respond to any market changes that may present themselves at any point in time. Although getting bigger by the week, the business is still able to respond very fast as everything is produced "in house".



Close up of the new phosphor-bronze triple brake pads

The latest variant of the Race Runner is a good example, and we include some "snap shots" taken as Sinan came to the UK last week to update his own UK car that he keeps permanently here with Richard at Rossendale Models - ready for when he races in local club and national events.

The new Competition Evo 2 version of the Race Runner has been widened, and gains new anti-roll bars front and back along with new phospher bronze brake pads to give more progressive braking. The widened drive shafts are now much thicker but "shouldered" where they enter the new heavy duty front drive axle cups.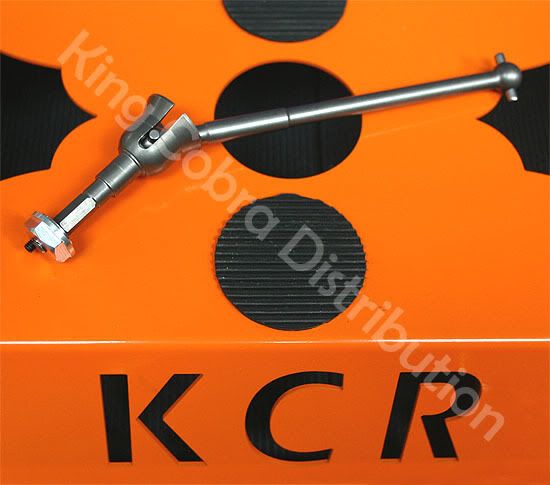 New bell steering cups

The new wheels are unique to match the new Evo 2 Race Runners geometry, and will not fit any other car.

The long central rear drive shaft is no longer fabricated, but machined from one solid piece of steel ( new machines now make this easy).

The longer turnbuckles are also "heavy duty" and the new (all steel) inner drive gears are a new ratio - just what the drivers have been asking for - halfway between the two most often used gear ratios!



A fully assembled new limited-slip diff

The anti-roll bars are mounted on a new shaped gearbox top that can be bought seperately to also fit Rally cars and previous model Race Runners too.

The Race Runner Evo 2 Competition has the previously optional Long Travel kit included in its specification, and the body is factory cut to fit the higher alloy shock towers.

Large alloy locking wheel nuts with piercing grub screws are also included, along with red progressive shock springs and a spares pack including spare front and rear hubs, x4 spare gears and other 1st line spares - nice touch!

Amazingly, all this extra specification will sell in the UK for £50 less than the current model at just £849.00 including vat and a "first line" spares pack.

The new Race Runner Evo 2 Sport will retail in the UK at £695.00 including vat and shares the all new geometry of its "top of the range " Competition brother, but retains the existing medium travel front shock absorbers and generally has a little less specification, but it is a real 4WD car in every sense, and is easilly upgraded to Competiton spec at a later date if required.

Both cars are now available with a factory fitted 26cc engine for just £100 more ( including vat)! Cars supplied without engines include the 5 bolts needed to quickly secure your existing Zenoah or CY engine. Engine removal and/or replacement in an MCD car is very fast and easy to do.

These new "super low" prices are due to the increased sales MCD now enjoys world-wide, and shows the factory commitment to give the best 4WD car to the driver at the lowest price possible whilst keeping and improving the quality year on year.

All cars include the superb new drivers handbook to help find and order spare parts with ease when needed. This is a high qauilty, full colour publication that shows the new level of professionalism MCD have reached already and continue to exceed all expectations.
[/align]
bron: www.kingcobra.co.uk